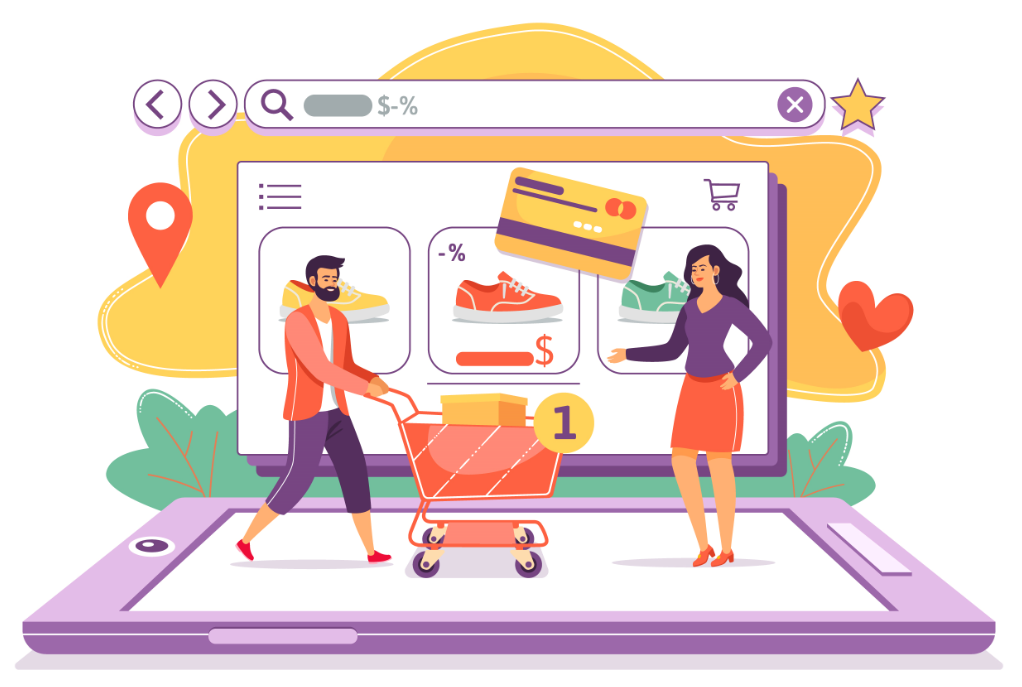 Reimagine Your Google Shopping Ad Mastery: 8 Game-Changing Insights
Shopping ads on Google are visible on the top part of a search result page on Google. When users type in their queries, Google matches the terms used in the query to keywords in ads and presents them before the user, on the search result page. These Google shopping ads contain the picture of the product being advertised, the price, a description of the product, etc. They are also displayed across multiple platforms like social media platforms frequented by users.
Types of Google smart shopping campaigns
There are roughly five types of Google smart shopping campaigns. They are as given below:
Search Campaigns

– Known previously as Google AdWords, these campaigns contain text-only ads that are displayed on search result pages.

Shopping Campaigns

–Also known are Product Listing Ads, they are displayed both on search result pages and on the Google shopping tab.

Display Campaigns

– These campaigns use image ads that appear on websites and apps across the Google network.

Video Campaigns

– Here, advertisements are in video format presented either as stories or as direct-response ads. Platforms like YouTube display such video ads.

Discover Campaigns

– These campaigns showcase ads using the "Watch Next" feature on YouTube, or the "Social" tab on Gmail. Users are targeted with ads that are related to their previous searches and internet activity.
Strategies to master Google shopping ads
Google smart shopping ads provide merchants with a wide reach and improve their website traffic and conversions significantly. The stiff competition in the market makes it imperative that creative strategies are implemented so that you master Google shopping paid ads. Some of these strategies are listed below.
Make good use of negative keywords
Unlike conventional ads on Google, where you get to specify the keywords that will trigger display of your ads; it is Google that determines which search terms should pull up your Google shopping paid ads. Negative keywords allow you to exercise some control over this process of determination by choosing what keywords should disqualify the appearance of your ads on the search result page. This way, you will not be paying for a click by someone not interested in your product. For example, if you sell women's clothing, you can list "men's" as a negative keyword, so that those searching for men's products don't see your ads.
Put your money where it is worth
As with everything in marketing, your money is best spent on Google smart shopping campaigns that perform the best. In other words, invest more in campaigns that bring the best ROI. Monitor the analytics data to identify the ads that are performing the best and bid higher on them. Simultaneously, take note to separate those ads that are not performing well, and lower your bids on this. This strategy will improve your overall ROI from the shopping campaign.
Increase impressions with accurate data
The more accurate the information displayed in the Google smart shopping ads, the higher the chances of increasing impressions. Such accuracy in information can only be displayed if Google is being regularly informed of the metrics on your feed. Update your feed and send this information to Google every day to maintain the accuracy of the information displayed on your ads. In fact, Google has been known to favor those who provide updated data consistently.
Image should shine when scaling down
It goes without saying that the image of the product displayed on Google shopping ads for ecommerce should be attractive because it determines the first impression users get of your product. In addition to being attractive, the image should be of a high quality and be an accurate representation of the product and its benefits. Most importantly, the image chosen should be clear even when scaled down, as only a thumbnail of the product image is shown on the search results page. The product image chosen should look great, whether it is scaled up or down.
Display ratings on the ads
Shoppers need proof of the quality before they go ahead with the purchase. The reviews of the products displayed on the landing page usually provide shoppers with proof of quality of the product. Irrespective of how great the reviews are, shoppers will not be able to read them until they click on the shopping campaigns Google ads and get directed to the landing page. This missed opportunity can be reclaimed by displaying the high ratings of the products on the display ads. Take not to avoid such display for products with lower ratings. This strategy is very effective in bringing in new customers and improving conversion rates.
Tripwire offers and intentionally low-price offers that are displayed on shopping ads on Google to bring in more people into virtual stores. Typically, when these offers are made, the products are upsold or cross-sold to gain returns. In addition to increasing the website traffic, this is also a great strategy to collect information on users and add more people to email lists. This way, these shoppers can be retargeted and sent promotional messages periodically.
Google Showcase Ads allow merchants to highlight more than one product from their shopping campaigns Google ads, in response to relevant search queries. This provides shoppers with a choice and improves the chances of them going ahead with a purchase. For instance, say a shopper is looking for socks, and you sell socks from different brands. Showcase Ads facilitates the display of the various brands of socks you sell, improving the chances of a sale. It is to be noted that the payment for Showcase Ads is not dependent on the clicks, but on "engagement", which is defined as expanding of the ad by the user and staying on it for over ten seconds.
Use promotions to stand out
Google shopping ads for ecommerce is resorted to by merchants all across the globe. It is therefore very important that your ads stand out among the crowd. Promotions are a great way to ensure that your ads catch the shoppers' eye. Some effective promotions include "Buy one Get one Free", and "Free Shipping". Analyzing the behavior and preferences of your target audience will help you curate promotional offers that best attract them.