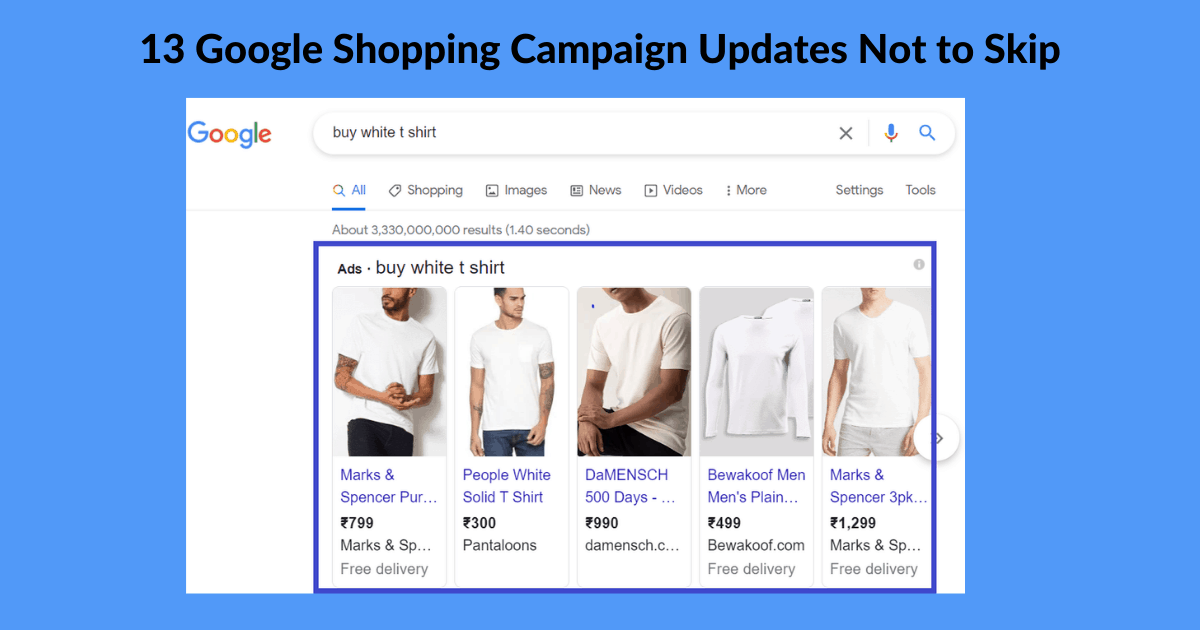 Digital marketing mandates knowledge of the latest updates, innovations and trends for success. Being unaware of the latest Google shopping campaign updates can be a very costly mistake. Given below are some of the best marketing updates by Google.
1. The Unit Pricing update
Unit price is mandated by specific regulations. This Google smart shopping update has been in the market for a little over 4 years now. Here, it is not the price of individual products that is looked at, but the price per unit (different for different sellers).
2. The Size and Color update
It is mandatory that sellers mention the size and color of their products on their product page in the following countries – France, UK, Germany and UK, amongst others. Sellers who do not provide this date will be disqualified from shopping feeds.
3. The GTIN and GPC update
Products with GTINs (Global Trade Item Numbers) assigned must have the GPC (Google Product Category) update. Belgium, Sweden, Poland, India, Russia, Canada, etc. have made it mandatory for "Media", "Apparel & Accessories" and "Software" products to publish GTIN and GPC data.
4. The minimum (image) size update
Another Google shopping campaign update that came into effect late 2016 is the minimum size update for images. Apparel images below 250 x 250 pixels will not be approved for display on feed. On the other hand, images of non-apparel products must be 100 x 100 pixels in order to be approved for feed display.
5. Google shopping campaign update on file size
This 2016 Google smart shopping update increased the file size capacity on feed from 1GB to a whopping 4GB, allowing sellers to publish more information than before.
6. Google smart shopping update on product feed
This update allows merchants to make basic optimizations and edits in their product feeds directly through Google Merchant Center. Merchants can now easily replace field names, existing values, add values that were absent before, etc.
7. The image search update
Research proves that images are the fastest way to sell a product. This is why Google has rolled out this Google smart shopping update whereby ads pop up every time users search for images of the products. The ads could be of products being searched for, or products associated with the image search made.
8. The inventory search update
This update is gem in Google shopping ads services. Users who search for details about a particular store are displayed ads about the products being sold at the store. This allows customers to look for the items of their choice and check for availability and increase website traffic.
9. The store pick-up update
This update is especially beneficial to retailers who are already using the inventory update. It allows retailers to add a store pick-up link to the product page users in the locality, allowing them to make purchases online and come pick them up in the store.
10. The customer match update
This update allows retailers to identify and target their most significant audience like subscribers, previous customers, offline shoppers, etc. Once a retailer uploads a list of email IDs, it will be matched to Google users and relevant data will be gathered to display targeted ads.
11. The Google Merchant Center interface update
The old Google Merchant Center has been updated to give it the staple fresh and simple look found across Google. No major changes have been made, just the reorganization of actions and tasks by logical grouping, making the interface more user friendly.
12. The showcase update for early shoppers
This update falls within Google's shopping ads services and aims at shoppers who are in the early stages of buying. The focus is on broad keyword searches. For instance, if a shopper searches for "summer dresses", they will be shown ads of different collections of summer dresses sold by various retailers.
13. The currency converter update
With the internet reducing the entire world into one small global village, retailers are increasingly stepping into the international market to sell products. This recent Google smart shopping update automatically converts the currency to local currency of potential customers in UK, Australia, Canada and Switzerland.
Also read: 8 TIPS TO PERFORM AN GOOGLE ADS CAMPAIGN AUDIT