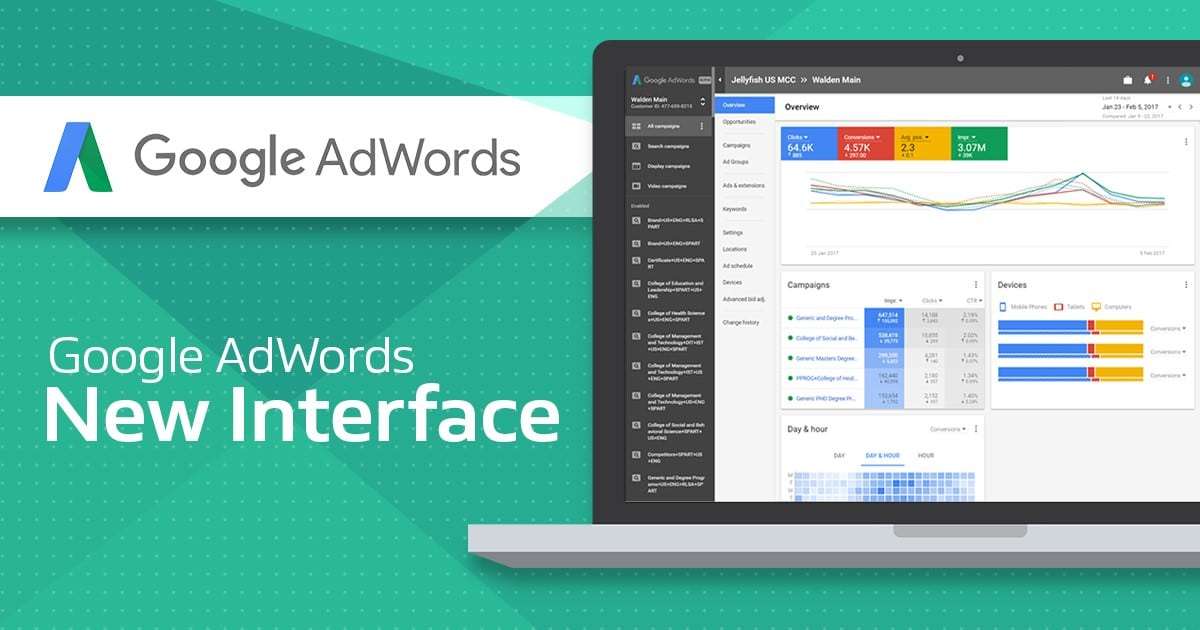 If you're involved in Google Ads management, you've probably come across the new Google Ads user interface. The new UI is sleek and visually striking, for sure. And it offers many great new features that you can overlook if you've become used to the old UI. PPC experts have worked with the new UI and here's a compilation of some very useful features that are turning out to be hidden gems.
Brand New Look
First, let's take a look at some obvious features in the new Google Ads UI that makes Ads management so much easier. The new UI is replete with data visualizations and vibrant representations of account data that are right in front of you. The expanding three dot menus are a treat to work with. If you've never worked with the old Google Ads UI, you'll take to it as a fish takes to water.
Demographic Targeting for Search Ads
Among the new useful features, demographic targeting for Search Ads has got PPC management professionals all excited. This powerful tool allows advertisers to narrow their reach and messaging to audience belonging to different ages and genders. Now, you have even more options for demographic targeting, including targeting by parental status and targeting based on users household income. Earlier, targeting by parental status was only available for Display campaigns.
Who Can Benefit?
The parental status targeting is of great benefit to businesses belonging to many different industries. For example, companies selling baby products, back to school products, children's toys, etc. Savvy PPC management professionals can leverage this feature for clients selling real estate or cars. With household income targeting, you can fine-tune Google Ads campaigns to cater to audiences with different price sensitivities.
Promotion Extensions in Ad Extensions
White label Google Ads experts have discovered an exciting new ad extension – Promotion extensions – in the renamed 'Ads and Extensions' tab. Using the promotion extension, you can highlight promotional offers currently running on your website. By using an extension for highlighting promotion, you can save space in ad copy and fill it with other valuable information. A great way to add value is by mentioning the promotion in one of the two headlines and/or a URL path.
Exciting Reporting Tools
Data geeks have much to rejoice about the new Google Ads UI. There are plenty of new powerful reporting tools that will make analyzing easier and more efficient. In the new UI, you can see the dissection of clicks, cost, and conversions across different devices including mobile, tablet and desktop. This is a great feature to manage and optimize device bid adjustments in your Google Ads campaigns.
Features to Manage Ad Scheduling
The new reporting UI is also great for managing your Google Ads campaign's ad scheduling. There are bar graphs and heat maps that show how your ads perform at different times of the day and different days of the week. Also, Google Ads now lets you group search terms and words in word clouds. PPC agency professionals are already using this feature to easily establish new keyword ideas and negative keywords.
Advanced Bid Adjustments
The new Google Ads interface makes managing all bid adjustments much easier. Firstly, the way you view and use bid adjustments is much more convenient. Secondly, using advanced bid adjustments, account managers can make bid adjustments that drive certain actions from the search engine ranking page. Account managers can use this feature to drive phone calls from call extensions or call-out only campaigns.
Don't Ignore Old UI for Now
White label Google Ads professionals point out some downsides of the new Google Ads UI. The new interface doesn't yet offer some of the popular features that are available with the old UI – for instance, price extensions, message extensions, business data, and shared library and display remarketing audiences to name a few. For now, account managers need to go back into the old UI to manage these features.
Take your time exploring the new Google Ads UI – you may find more interesting features to work with!